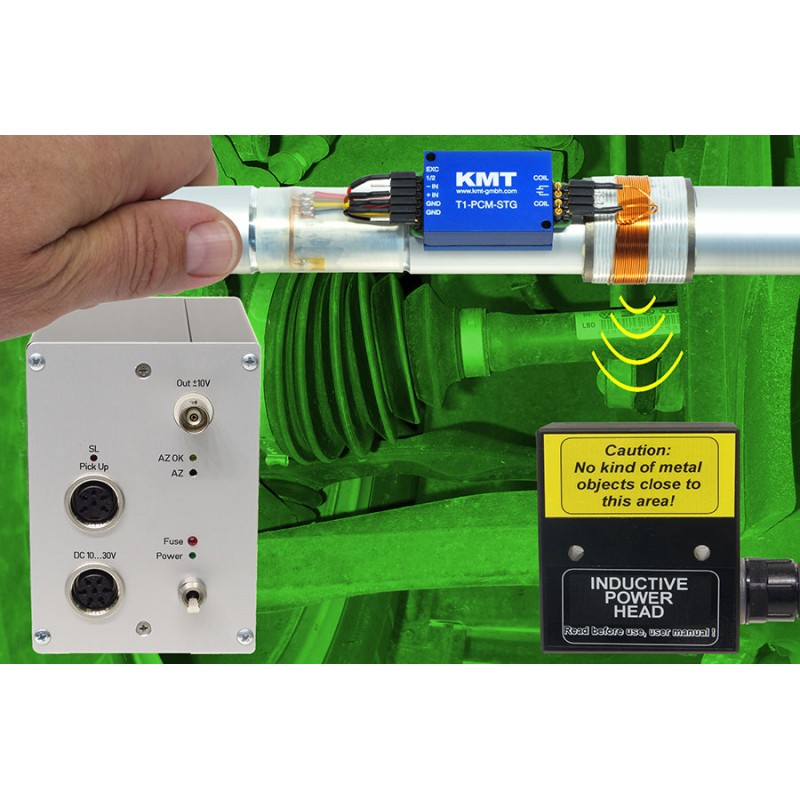  
T1-PCM-IND
The T1-PCM-IND single-channel telemetry system offers the easiest handling for the wireless transmission of strain gage signals from rotating shafts. The encoder (35 x 24 x 14mm) has a weight of only 16g. The transmitter (encoder) part is simply mounted on the rotating shaft with a special fiber reinforced tape.
The data transfer between tranmitter and receiver is digital. The powering of the transmittion part by the T1-PCM-IND is inductive!
The T1-PCM-IND transmitter provides a pulse code modulated signal (PCM) to an induction winding around the shaft. The magnetic field of this winding enables the inductive transmission of the signal from coil to pickup. From there the signal is transferred by cable (5m) to the receiver. The maximum distance between the tranmitter coil and the pickup/powerhead is 30mm.
The receiver unit offers a BNC connector at the front panel with analog outputs +/- 10V and optional a current output of 4-20MA.
Strain gage sensors (>350 Ohm) in full- and half- bridge configuration can be directly connected to the transmitter. The excitation is fixed to 4 Volt DC and the gain is set by plug-In bridge in 4 steps ( 250-500-1000-2000 or 1000-2000-4000-8000). An auto-zero (AZ) adjustment is executed by pressing the AZ button on the front side of the receiver. The sucessful AZ operation is indicated by a yellow LED. The yellow LED flashes as long as the AZ is in progress. When the AZ completes the LED continiously illuminates. The AZ setting is stored in a Flash-RAM and thus is not lost during power-off.
Product specifications
Easy to assemble and operate
Strain gage sensors (>350 Ohm)
Full and half bridge configuration
Excitation fixed 4 Volt DC
Auto-Zero adjustment
Gain: 250-500-1000-2000 or 1000-2000-4000-8000
16 bit ADC
Digital transmission realized inductively
Distance up to 30 mm (Range)
Powering of transmitter part inductive
No influence through radio frequence